Bond Market Sees Significant Shift, Investors Cautious Ahead of Fed Decision
Published | Written by Dan Price
What a day it was for the bond market! On Monday, March 13, 2023, the 10-year Treasury ended the trading day at 3.521, down 16.3 basis points. The 2-year Treasury ended the day under 4%, at 3.985, down an incredible 60.8 basis points - one of the largest drops in recent history. This is a clear indication of a significant shift in the market sentiment. The 30-Year Fixed rate also saw a significant short-term drop from 7.1% to 6.5%, according to Mortgage News Daily.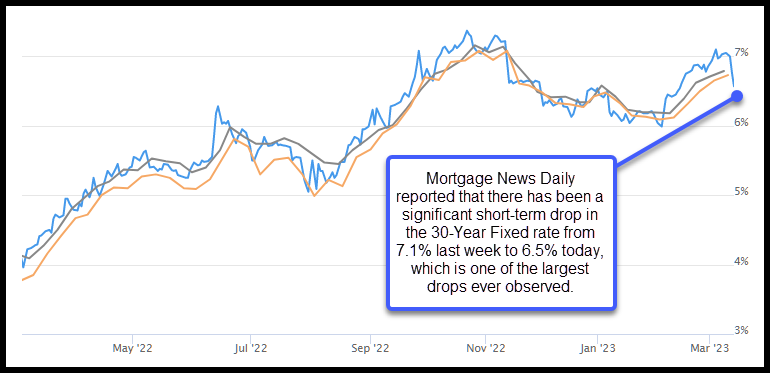 Investors are reassessing their positions and taking a more cautious approach, as evidenced by the nearly half-point drop in price for Mortgage Backed Securities' 5.5 coupons from their most recent highs.


The next two weeks are critical for the bond market as several key economic indicators will be released, starting with tomorrow's Consumer Price Index (CPI) data. The CPI provides insights into inflationary pressures in the economy that can impact interest rates. On Wednesday, the Producer Price Index (PPI) will be released, providing additional data on inflation. Thursday's Federal Reserve's Beige Book report will provide an assessment of economic conditions in each of the 12 Federal Reserve districts.


The Fed Interest Rate Decision, set for Wednesday, March 22, 2023, at 1pm Central Time, is the most anticipated announcement. Investors are expecting a pause on interest rate hikes, which could provide a boost to the bond market and ease concerns about rising interest rates. However, if the Fed continues with interest rate hikes, it could lead to further declines in bond prices.


Overall, the bond market is at a critical juncture, and investors are closely watching economic indicators and the Fed's interest rate decision to determine their next moves. The outcome of these events could have a significant impact on the bond market and its sentiment in the coming days.

Related Articles
Keep reading other bits of knowledge from our team.
Request Info
Have a question about this article or want to learn more?